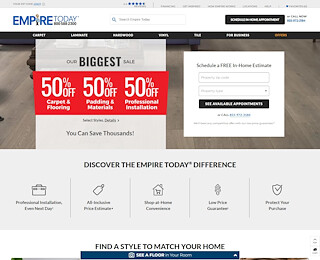 Picking the best flooring for your home can be challenging with the different types of flooring options out there. Many homeowners are desperate to be sure that they're making the right choice before taking the plunge. If you've found yourself in a similar problem, you're in the right place. Here are tips that will help you choose the best flooring for your home.
Determine Purpose
First, determine the purpose of the room. Each room in your house has a unique purpose, and your flooring option should reflect that. For instance, your kitchen is a high traffic area of the home with lots of food being prepared in this area and potentially spilled all over the floor. You need to choose a floor that is water-resistant and can withstand heavy foot traffic. 
Know Your Style
Think about which textures appeal to you most; the luxuriously thick carpet, the sleek lines of tile, or the rich grain of hardwood. You also need to think about your current décor too unless you are redecorating the entire house. Are you looking for floors that accentuate your existing room, or are you looking to redesign the whole space?  Choose floors design that complements the accessories you have now. 
Calculate Expense
Buying the flooring is only part of your budget; you need to have the floors installed. However, you must do some calculations to help determine which flooring choice is most conducive to your budget. Considering the total cost of the project will help steer you into the best floor types for your needs.
Comparing the Different Types of Flooring
Carpet vs. Cork Flooring 
Carpet fibers are a natural choice where comfort is key. They are commonly made from polyester, nylon or polypropylene. It's best used in bedrooms and living areas. Cork is a natural material; it is environmentally friendly. It's an excellent insulator, warm, soft, and absorbs sounds. It's safe for the family since it's antimicrobial and resistant to mold. 
Hardwood vs. Laminate Flooring
Hardwood is durable and can be refinished many times. This flooring naturally fit in any moisture-free area. Laminate is the right choice in high-trafficked areas of the home, because it resists scratches, wears, fading, and stains. It is a cheaper alternative to hardwood flooring. Laminate is made to look and feel like wood but cost less, so it's an excellent flooring option if you're on a low budget.  
Tile vs. Vinyl Flooring
Tile is another more inexpensive type of flooring made from porcelain or ceramic. It is water-resistant and easy to clean. It's considered a step up from vinyl and is used in spaces such as bathrooms and kitchens that need to stand up to frequent cleanings. Vinyl is another budget-friendly flooring choice. It's also water-resistant and easy to clean. It's a natural pick for kitchens, mudrooms, and laundry rooms.
Are You Looking For Flooring Experts?
Contact Empire Flooring and Carpet today if you are about to get a flooring project started. We would be delighted to help you in pursuing your home's aesthetic goals.