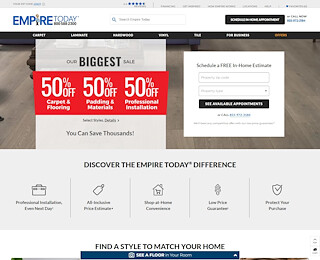 Empire Flooring in Seattle is a reputable flooring company dedicated to providing quality and excellent services. We are experts in floor installation, repairs, refurnishing, cleaning, and many more. Our professional crew at Empire Flooring and Carpet Experts can handle even the most complex flooring projects. Whether you are installing carpet, laminate, vinyl plank, tile, or hardwood floor, we are the perfect fit to get it done.
At Empire Flooring and Carpet Experts, we believe that anything worth doing is worth doing well. Over the years, we have established a reputation to deliver exceptional and unparalleled services. We will dedicate every available resource at our disposal to offer you the very best of flooring services. With us, you are guaranteed to get quality and excellent services that give 100% customer satisfaction.
What Should I Consider Before Choosing Flooring?
Flooring installation in your Seattle home is quite a huge investment and effective way of enhancing its aesthetics. These days flooring installation transcends beauty, as there are other things if not considered could decrease its value.
Below are factors to consider before a floor covering option for your upcoming home remodeling project.
Durability: Doing flooring installation involves many processes and is not something you would want to be anytime soon. When you are choosing a flooring material, go for one that is very durable. Ensure that they are durable such that you won't be changing your flooring anytime soon and that your investment is worth every penny.
Budget-Friendly: Changing floorings in your Seattle home can be a serious investment. Some floorings are costlier than another. Create a budget and ensure the floor covering you are going to matches your budget and preference. For example, if you have a small budget, you can choose carpet over marble flooring.
Ease Maintenance: Floor covering materials need to clean and maintained to ensure durability and hygiene. If you are after keeping a clean home and maintaining hygiene choose flooring that will not easily get dirty and can be maintained. Example of such flooring is the laminate flooring and tile covering.
Comfort: The comfort level of flooring influences the overall comfort of a home. If you choose a flooring that is hard to walk on or gets cold during winter, it reduced the comfort of your floor and home. Ensure that the chosen flooring has a suitable comfort level.
Lifestyle: Always ensure that the chosen flooring matches your lifestyle. If you have kids at home that are likely to fall or slip during playing, marbles, or hard tiles is not a perfect floor covering option. Go for carpet flooring as it will soften their falls and prevent them from being injured.
What is the Most Durable Flooring?
When it comes to the most durable flooring, laminate flooring is one. Made from pressed wood, laminate flooring offers the most resistance to scratch, wear & tear, and moisture, and is incredibly durable.
Contact Us For A Free Quote!
Contact us today at Empire Flooring and Carpet Experts to get a free quote for your flooring installation. Our expert crew at Empire Flooring in Seattle will be available to speak with you and discuss your needs. You can look forward to a fantastic experience.
Empire Flooring Seattle