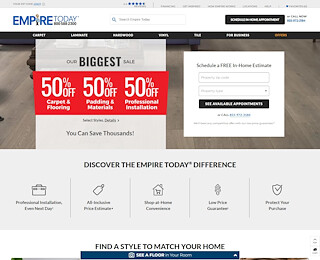 Empire flooring reviews are overwhelmingly positive. Our customers love the traditional and modern looks we provide, and we love to share what we know with you. Do not look for new flooring in the dark. Use our reviews to guide you to the perfect solution.
Flooring reviews
There are many different types of carpets, hardwoods, and tiles to choose from. You can easily get lost in a sea of information. In a world where social media and other platforms are the target of marketers, a professional review is starting to carry the weight it once did in the age of the newspaper.
Our professionals love their jobs and are willing to help you make one of the most important decisions for your home. We examine everything from stain protectant carpet to bamboo floors on our website so that you know exactly what you are getting into.
How can I choose my flooring type?
Different rooms have different needs. You would not provide carpet in your bathroom or, for most people, would not consider laying tile in your bedroom.
Still, finding exactly what you need can be a chore. There are many companies providing products and not enough time to review everything. Empire Floors offers segmented reviews of floors and their types to help you decide what is right for you.
Deck your bathroom out with the right tile. Turn your basement into the perfect entertainment center. Use the right flooring for your taste.
How much does my flooring cost?
When you are ready to choose the solution that works best for you, our consultants are ready to provide an upfront hassle-free estimate of the cost of work. We help potential customers and interested parties understand the exact cost of their project before committing time, money, and resources into their home.
We strive to create the most complete estimate possible. Hidden fees and other factors are undesirable, and you should never be burdened with costs you simply cannot afford. Our team works hard to turn your new knowledge into reality.
You need to know whether the hardwood or carpet you read about is really an option that fits your budget before making a decision. We can help.
Do I need to have a different floor type if I own a pet?
Dogs and cats are our best friends. However, they come with their own sets of restrictions. We do not want our dog destroying the carpet.
Picking the right flooring in this instance can be tricky. We offer professional reviews and opinions of the perfect flooring options for your pet.
Carpet and flooring installation
When you are ready to turn your knowledge into action, Empire Flooring is ready to help. We provide quality floors at the lowest possible price and stand ready to make your dream a reality.
Empire flooring reviews are the perfect launching point for your next project. When you are ready to proceed, we will work with you to create the perfect look and feel for any room. Visit our website today.
Empire Flooring Reviews